Passport (Euromonitor)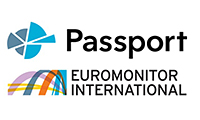 Passport Euromonitor contains marketing reports, analytical and statistical reviews of the market, ratings and profiles of companies in leading countries and industries, and other sources of information.
Description
Our subscription provides access to three subsystems included in Passport Euromonitor — a system with tools to study the markets. The "help" section describes the principles of data collection and analytical reporting.

The Passport system includes statistics for 210 countries, which can be structured according to different parameters: for example, industries and regions. In addition to information about the lifestyle of consumers, companies, their shares and market position, Passport describes existing demographic trends in different countries and trends in various industrial sectors and markets.

The Passport Industrial system analyzes 177 industries (by ISIC) of 18 largest economies of the world: China, Germany, France, Japan, Great Britain, USA, Brazil, Italy, India, Russia, Canada, Spain, Australia, Mexico, South Korea, Indonesia, Turkey and Saudi Arabia.

Passport Cities system contains socio-economic indicators and urban-related data about cities around the world.
Connection terms
Temporary unavailable.